SYNCRO GROUP is delighted to be exhibiting at K-2022 in Düsseldorf with an enlarged family, thanks to the recent addition of AceLabs and EUR.EX.MA into the group, which will strengthen the team made up of Syncro, Plantech-CST and Plasmac.
The ambitious project of the group, which started a few years ago, is now identified with a clear message and a corporate mission called ZERO WASTE MYSSION. All the machines and systems developed by Syncro Group have the common objective to reduce, if not to eliminate, industrial waste; going forward the new generation of products from Syncro Group will be identified with the "PLANET APPROVED" brand.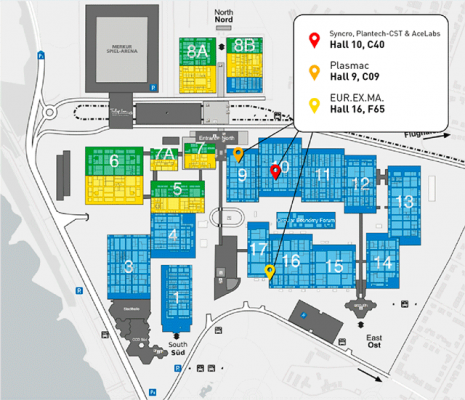 Plantech-CST will present its material handling solutions for post consumer waste dedicated to the world of washing and recycling for the production of PCR (post consumer recycled) such as storage, conveying, dedusting and dosing systems. The use of PCR, which is not just a trend, will increasingly become a standard in extrusion lines with the aggravating factor in having difficulty with material classification. To help its customers, Syncro, together with Acelabs will present both a laboratory system for the sample analysis of PCR granule purity and an automatic material sorting system capable of separating the out-of-specification granule in terms of colour, size and contamination.
The recent addition of EUR.EX.MA will allow Syncro Group to complete its offer with laboratory and pilot lines, guaranteeing customers the optimization of recipes with different materials including PCR as well as biobased materials before going to production lines, something that represents a further important step towards reducing industrial waste.
Syncro will also present intelligent conveying systems for extrusion lines aimed at reducing dust and angel hair, which will enable the reduction of defects in production such as gels and infusions by reducing waste and out-of-tolerance products.
Another product developed in synergy between Syncro and Acelabs is the in-line defect inspection system, which creates a real identity card as well as a classification of extruded products, by indicating their quality to allow the customer to use the product for applications requiring different qualities and tolerances.
Upon completion of Syncro Group's proposal, the extrusion lines for in-line and off-line recycling developed by Plasmac (a Joint Venture with Erema Group) will be presented, which complete the circular economy cycle of the group companies by reducing waste to zero.
Intelligent management of raw materials, analysis and selection of post-consumer and post-industrial waste, recipe testing and optimization, production automation, in-line quality and post-industrial waste recycling identify the ZERO WASTE MYSSION of Syncro Group".
For your free ticket fill out the contact form by writing K-2022 TICKET FREE and we will send you an email with your unique code or write to daria@syncro-group.com or  CLICK HERE TO GET YOUR TICKET NOW!