This Textile Company was founded in 1994 starting with WEAVING and CONFECTION of terry towels and bathrobes. Nowadays has developed in a global supplier with its own embroidery house becoming a vertical integrated production facility.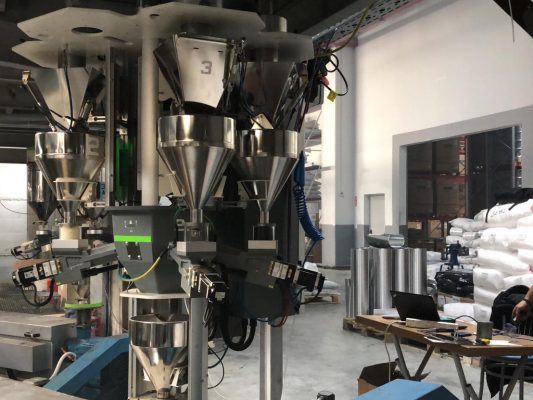 The Company has chosen SYNCRO MYblend dosing units to overcome the problem of colour discrepancy. Dosing variations are critical for yarn manufacturing independently to which type of process or applications. SYNCRO MYblend is the only pure loss in weight gravimetric blender on the market capable to guarantee its functionality in gravimetric mode at all times.
Precision and blending quality are common features to all SYNCRO's blenders but MYblend exceeds the traditional industry standards.
MYblend thanks to its additional weighting hopper positioned in the middle between receivers and the weigh hopper is capable to pre-weight the refill material which will drop into the weight hopper. This feature eliminates completely any switching to volumetric mode. Working 100% of time in gravimetric mode which will lead to constant colour control reducing waste in any section of the production process and above all, very important it leads to high quality products at all time.
Another feature which stands MYblend above any other blender on the market is the load cells calibration self-diagnostic. The three load cells are constantly communicating and checking each other's. If any of them is losing its calibration it will be detected immediately and a visual message prompted to the operator. Once again, another key feature which will drastically reduce waste and reduce down-time for ordinary or extraordinary maintenance.
MYblend, as well as SYNCRO's MYbatch, has the option SmartdraYn, innovative automatic draining system. SmartdraYn allows fast changeover, self-cleaning and minimize waste when frequent material change over are required. SmartdraYn can be supplied with single or multiple pick-up points equipped with QR code printer to guarantee full material traceability.