Syncro launches a new initiative. It is said that travel broadens the mind, but what easier way to travel without limits or boundaries, than to read a book and allow your imagination to take you to all the places you read about.
Paolo Rizzotti, Syncro's Technical Director, proposed this fabulous initiative: "BOOKS: a source of well-being"
On Friday 8 April, Marco Zucchetti, Project Manager of Syncro's Technical Department, gave a presentation on 'Life of PI' by Yann Martel, Marco combined short quotes from the book and explained the feelings and reflections that reading the book aroused in him.
The first meeting of the initiative promoted by the Technical Office 'BOOKS: a source of well-being!' found 'Life of PI' to be an almost obligatory choice.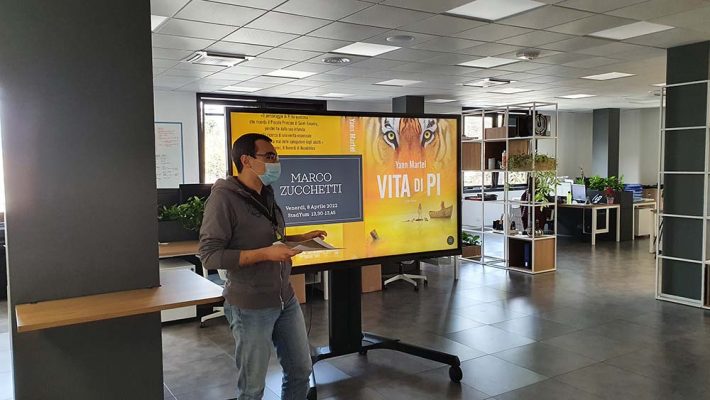 Syncro Group, with its Tiger symbol, reflects the character of the company and with 2022 being the year of the tiger in the Chinese calendar, 'Life of Pi' was a natural choice!
We asked Paolo Rizzotti why he came up with this initiative and he said: "It is a proposal to invite people to read, share flashes of humanity, dreams, suffering, desires, universal yearnings, … or share just a good read with colleagues.  Each month, one person will volunteer to choose a book and then present it to his colleagues with their thoughts and feelings.  Essays, novels or any kind of recreational reading with no learning objectives are allowed, as well as texts aimed at personal growth and/or skills".
In addition, a very modest selection of books has been made available in Syncro's Technical Office. This is a small start, but thanks to our first presentation by Marco Zucchetti and PI it promises to be a good one!