The Syncro Group is taking the next step in growing its business in China by adding the Plasmac range of Alpha machines to the portfolio of products produced by Shini-Syncro.
Following in the footsteps of the successful partnership between the Syncro Group and Shini Group, Shini – Syncro set up in 2011 will manufacture and promote sales of the Alpha range of machines to the blown film market in China.
Initially Shini-Syncro will concentrate on the sales and manufacturing of the market leading Alpha range of machines for the recycling of inline production scrap in blown film applications.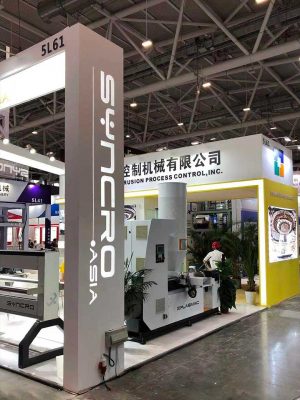 Due to its market leading output per kW of installed power, the Alpha product range has a long and successful history with hundreds of machines installed in Europe, the America's and other worldwide regions and Shini-Syncro will now aggressively target this booming market sector in China.
Following the introduction of the Alpha machines, Syncro will then look to add further products from the Plasmac portfolio to the range of machines manufactured dependent on the market needs.
Gabriele Caccia, Syncro Group CEO, speaking about the launch of this new business strategy said "Since it's relocation from the UK to Italy Plasmac has gone from strength to strength, the Company has seen significant growth year on year over the last three years and this initiative in China is a natural progression for the company. Our experience and success with the Shini – Syncro will be replicated in this new business area and we look forward to seeing where this takes us."
For more information contact marketing@plasmac.it or visit our website at www.plasmac.it