Syncro Group is moving towards PLAST, one of the most important trade fairs for the plastics industry that will be held at Fiera Milano from 5th to 8th September.
For Syncro Group, Plast 2023 will be the opportunity to present the latest PLANET APPROVED products that have been always conceived in view of the ZERO WASTE MYSSION: reducing industrial waste, energy and raw material resources, while having a control on the total output.
SB DRY, the latest company to join the Syncro Family, with 30 years' experience in the industry, will bring to the 500-square-meter island completely dedicated to Syncro Group:
Its DRY TO MELT integrated with CRYSTALLIZE TO MELT, an integrated crystallization and dehumidification system that, unlike traditional systems, combines the two processes in one step, with the following benefits:
Reduced energy consumption
Reduced floor space requirements
Lower maintenance costs
Lower investment costs, resulting in a shorter ROI
In traditional processes, two heat treatment steps require more energy consumption, footprint and maintenance costs!
The solution proposed by Syncro Group, combines both the integrated system of DRY TO MELT and CRYSTALLIZE TO MELT with SYNCRO's MY BLEND gravimetric blender, providing a single supervision of the entire extrusion process.
The VHELYOS will be shown too, a true super dehumidifier that uses the radiation heating system, whereby energy is transferred directly to the material, without altering the nature of the plastic polymer! Moisture is extracted with the application of vacuum to a residual pressure of less than 0.1 mbar. The result of this combination of radiation and "stripping" allows VHELYOS to achieve extreme levels of dehumidification, quickly, with low energy consumption, without oxidation and in any case without interference of foreign agents with the plastic polymer.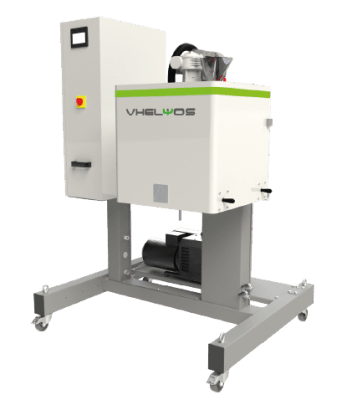 A Plast 2023 exclusive will be SB DRY's new product, the new FYNISHER!
The FYNISHER is a Crystallization and Dehumidification product dedicated to the large consumption of recycled PET (R-PET).
R-PET is continuously conveyed, passing through a Crystallization stage to reach the FYNISHER where it is finally dried to the best moisture level, with the following advantages:
Quick moisture "stripping"
Reduced residence time
No oxidation or degradation
Energy efficiency
The result will be immediately visible in the R-PET which will appear cleaner and more uniform!
Syncro Group makes it possible to find in one GROUP all the advantages and experience from different specialists in the field, thanks to the synergy created between the companies SYNCRO, PLASMAC, PLANTECH-CST, ACELABS, EUR.EX.MA. and SB DRY.
To ask for your free ticket, fill out the form writing PLAST FREE TICKET and we will send you an email with the registration codes.
CLICK HERE TO GET YOUR FREE TICKET