We are pleased to welcome the 5th installation of the new air ring TYPHOON3 in China!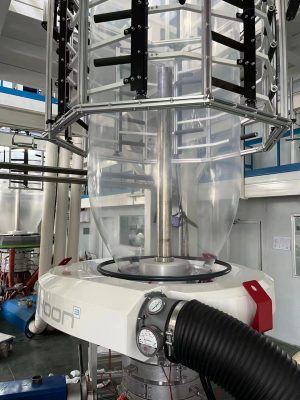 The end user is located in Guangzhou, in China and is a company specialized in lamination film, food and beverage packaging film, tubular film, vacuum packaging film and pouch film suitable for sterilization of 30 min at 120 °C, medical and hygienic packaging film.
The same customer has already 6 SYNCRO auto air rings TYPHOON at his plant and this TYPHOON3 is the 7th.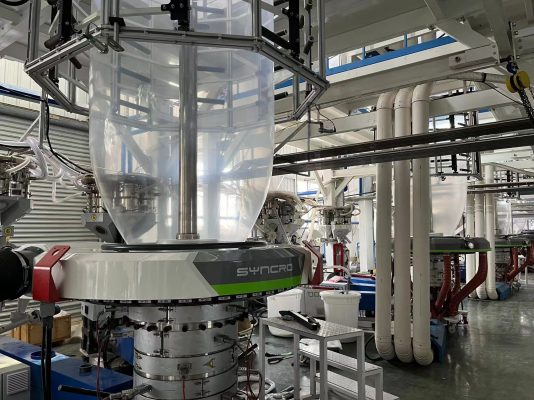 The blown line is designed for lamination film, brand Suzhou Mulplus, a good Chinese OEM.
The extrusion plant is based on 450 mm die. A lamination film, 60 µm thickness, 2000mm layflat is produced with an output of 455kg/h. When the line is started up, as soon as the bubble achieves a good stability and the set hourly output, after switching on the automatic control, the air ring takes less than 5 minutes or just two adjustment cycles to reduce the initial 2 sigma dispersion of more than 50%; in this case moving from 60 µm ± 4.26 µm or ± 7,1% to 60 µm ± 1.68 µm which means ± 2,8%.
Compared to a neighboring line producing the same recipe by using a previous generation TYPHOON ring, the new automatic air ring TYPHOON3 has proved to be superior to its forerunner, especially due to a faster adjustment of the profile thickness dispersion (less waste during start-up and recipe change) and higher energy efficiency (lower consumption).
In a simple sentence, the customer said: "I am so happy to see a more efficient air ring coming out".
Thanks to SYNCRO patent special turbulator design with optimized air distribution along the circumference of the regulating nozzles, TYPHOON3 is a revolutionary and high energy efficiency automatic cooling air ring!